VMAs 2014
Hello, I've just realized that I never made a post about the VMAs and all the fabulous events that went down.
Reason for that is that I had part 2 of college orientation on Monday and Tuesday and then Wednesday I needed some serious rest and then Thursday and Friday (today) I had school!
Moving on, to the VMAs!
If you didn't tune in then you've probably read up on all the performers and winners on another site or all you had to do, really, was scroll down your Twitter feed.
So the red carpet was full of stars, left and right there was someone worthy of attention!
The red carpet/pre-show performers this year were Fifth Harmony (!!!!!!!!!!) and Charlie XCX. Prepping viewers for the show with their singles, "BO$$" and "Boom Clap".
Fifth Harmony even did a nice little strut down the red carpet and into the audience (after releasing yet another song, "Them Girls Be Like", from their extremely anticipated and overdue debut album "Reflection")
The VMAs were opened with Ariana Grande belting out her recent single "Break Free" and soon after Nicki Minaj joined her and sang a part of her recent single "Anaconda" and boy did she work it up there....
Then Jessie J joined the two with her part in "Bang Bang" in which Ariana Grande and Nicki Minaj joined to blend their voices together for their recent collaboration.


(Nicki's wardrobe malfunction wasn't immediately obvious to me, I thought it was part of the performance for a second but soon realized..nope)
We had other amazing performances by Sam Smith (aaaaaaaamazing), 5 Seconds of Summer (who took home a moon man for Best Lyric Video, after a pretty heated battle between Demi Lovato and her Lovatics), Iggy Azalea was joined by Rita Ora for their recent collar "Black Widow", Taylor Swift, Maroon 5, and to close the show, Beyoncé.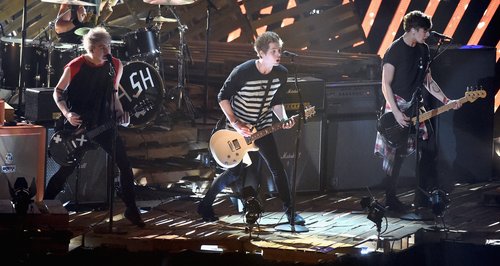 OH NO! Ashton! I seriously could not find a better picture in which we could get all 4:(
Moon Men awarded:
Video of the Year:
Wrecking Ball - Miley Cyrus
Best Pop Video:
Problem - Ariana Grande ft. Iggy Azalea
Best Male Video:
Sing - Ed Sheeran
Artist to Watch:
Fifth Harmony
(just to name a very small amount)
The Artist to Watch award was a battle of the bands.
5 Seconds of Summer vs. Fifth Harmony
I definitely think it was a close one, but Fifth Harmony took it hoooooomeee!! (I am so proud of these girls that I've loved since XFactor day one together).
I was so conflicted for this award that I didn't actually vote.
But let's not get too upset, because both the guys of 5SOS and the gals of 5H took home a moon man!
Kinda upset that One Direction weren't even up for one award this year...maybe 2015?
The VMAs are definitely one music award show I look forward to, so I cannot wait for VMAs 2015, maybe they'll be back in NYC?
Did any of your favorites take home an award? Or were you disappointed?
love, J
(None of the pictures above are mine, nor do I claim them as mine. They belong SOLEY to their rightful owners)